Sundarban tour is the name surprise of the nature. It is located on the coast of Bay of Bengal and three rivers make it more beautiful; the rivers are Padma, Meghna and Bramhaprutra. This land area is 10000 square KM. It is located in Bangladesh and India both country. The Bangladeshi area is 6017 Square KM. Khulna, Satkhira, Patuakhali, Bagerhat and Barguna district across this forest.
It is the world's largest mangrove forest. We can call it the museum of biodiversity. In 1997 UNESCO gave it a World Heritage place list. It is habitat of The Royal Bengal Tiger, Deer, Crocodiles, snakes, Birds, Monkeys and many kinds of animals and reptiles. There are 350 types of tree, 270 kinds of birds, 120 kinds of fish, 42 kinds of mammals, 35 kinds of reptiles and 8 types of amphibian. Many drains and canals across the forest. Rich trees and animals make it a destination for tour lovers.
How to Reach:
Here are two most famous ways: Khulna and Mongla. Which ships depart from Khulna these ships across Mongla and go to Sundarban. If you want to go to Khulna by bus there are many bus agencies from Dhaka to Khulna. You can get buses easily from Sayedabad, Gabtali and Gulistan. The fare of the bus can be Non AC 600 – 700 Taka and AC bus fare is 800 – 1400 taka. It can take 7 to 10 hours to reach Khulna.
If you want to go by train there are basically two trains from Dhaka in morning and evening. The names of the trains Sundarban Express and Chitra Express fare of the class 500 – 1700 taka.
If you want to go by Mongla there are semi coach chair buses. Some of them are Digonto, Arman, Rajdhani etc . The fare of these buses can be 450 – 500 taka. It also takes 7 to 10 hour time.
If you're thinking about Sundarban visit, my tips are to meet with tour operators. Because food, entry system handle, security and for permission that group will help you very much. Otherwise you can fall in trouble for these tasks.
If you're a little team you can't go to the very inner side of the forest because if you want to visit the inner of forest you need permission from forest authority, guide and security guard so it is not possible for 2 or 3 person teams. you visit with any operator they will handle all your processes. If you visit with any operators they will provide you food from start and finish your journey of ship or launch. All the expenses included their trip cost.
Packages of Sundarban: Sundarban Tour
There are packages for visiting Sundarban. You can't visit it without Ship or launch. If you are a team of more than 40 people you can personally rent Launch. By this system the cost will depend on you.
Here mid level packages can be 6000 – 14000 taka and AC luxurious cruise ship rent can be 15000 – 25000 taka per person. This package's duration is generally 3 days and 2 nights or 4 days and 3 nights. You can choose as you wish.
Appropriate Time:
November to March is the best time for Sundarban visit. Because this times Sea and river cool down so you can visit these times very comfortably. Other times of year you can visit but due to the problem of weather you can't visit the inner side of the forest.
Visiting spots: Sundarban Tour
There are many visiting spots that you may visit like Harbaria, Karamjal, Kotka beach, Jamtala beach, Hiron Point, Mandarbaria beach, Dublar char etc.
Harbaria
It is one of the visiting places of Sundarban. It is located 20 KM far from Mongla. The main attraction of this point is the wooden trail. This trail is 30 minute by walking. The shaking of the trail will fascinate you. There is a pond and watch tower. You can see the full beauty of Harbaria from the watchtower. It will give you an adventure feel.
KaramJal: Sundarban Tour
It is near Mongla. It is located 8 KM far from Mongla and bank of the Poshur river. Its land area is 30 hectares and it is the country's first natural breeding centre of crocodiles. If you want to visit Sundarban one day this place is perfect for you. You can see the trail and walk. When you're visiting you can see local fishers. There are many crocodiles, deer, monkeys, birds and many kinds of trees.
The charming and immaculate beauty will fascinate you. From the watch tower you can see the other beauty of Karanjal. Entry fee of this spot Bangladeshi visitors and students 20 taka, for the foreigner fee is 300 taka and for the researchers 40 taka foreign researcher fee 500 taka and less than 12 years child entry fee 10 taka. Here you have to pay extra 200 if you are bringing a camera and for foreigners 300 taka, 15% vat applicable for fees.
Kotka and Kotka Beach:
It is located 90 KM far from Mongla. Launch is the main transport system. It is very near to the Bay of Bengal Sea. You can see here Red crab in the beach. The sunset scenery from this beach is most beautiful. For the charming beauty of this spot makes it one of the destination points to the visitors. Kotka has a 40 feet high watchtower, you enjoy beauty from there. There have Forest department office. If you go ahead by trail you may see the Chitra deer, wild boar, wildcat, many kinds of birds and in winter the crocodiles.
In the south side of the forest have hills there can be see the footprint of The Royal Bengal Tiger. There have drinkable waters ponds. It is a sanctuary for animals. The entry fee of this area for general people 150 taka, for the students fee 20 taka, foreign visitors fee 15000 taka. Here you need to take a guide so it charges 500 taka, security guard fee 300 taka, Telecommunication fee Launch cru fee 70 taka and camera fee for Bangladeshi visitors 200 taka and foreign visitors 300 taka.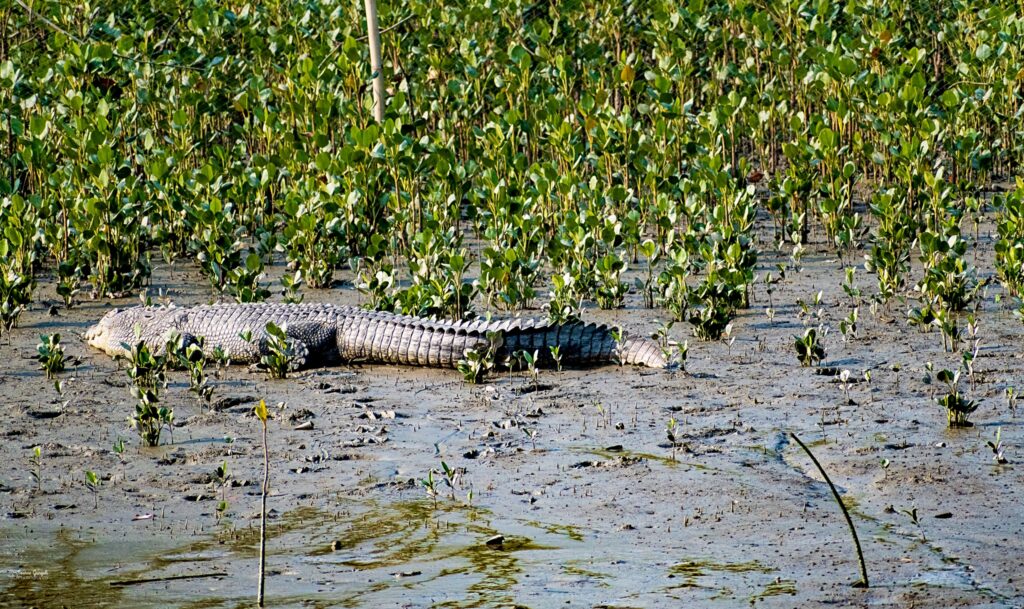 Hiron Point: Sundarban Tour
It is located at the south part of Sundarban bank of the Prommta kunga river Khulna range. It is a reserve sanctuary of the Bangladesh forest department. Another name of Hiron point is Nilkamal. There is a watch tower 3 Km far from this watch tower you can see the view of Sundarban. For the reason of sanctuary you can see many kinds of animals and birds like The Royal Bengal Tiger, Deer, Monkey, Crocodiles, Snakes and many kinds of birds very easily. There the fee for sanctuary Bangladeshi citizens is 150 taka, for students 30 taka, for foreign visitors 1500 taka. Fee of outside sanctuary is general people 70 taka, for students 20 taka and for foreigners 1000 taka.
Mandarbaria Beach:
It is located 75 KM far from Nildumuria. Length of this sea beach is 8 KM. It is unknown for most people. If you want to visit this spot you have to go to Satkhira first then by Auto rickshaw you have to reach Nil Dumuria boat wharf. Here have boats and speed boats to reach the beach. The rivers across the Sundarban is the only way for reach this beach.
The beauty of both side of rivers is very charming beauty, it will give you an adventure feel. You can see many birds, Pankouri, Balihas and inner forest deer and many more beautiful sceneries. This beach tour is suitable for those people who are ready to take the stress of journey and thirst for looking at the big amount of sea water and listening to the roar of the sea. You can see the footprint of The Royal Bengal Tiger here and you can see many deer. So if you're looking for a low crowded sea beach this place is most suitable for you.
It is located on the South side of Bangladesh. This char grows on the bank of Kunga and Poshur River. It is basically the Sanatan religion area. Many people come for Punnasnan and Rasmela times. Here whose people live basically their main income source is fishing. In Rainy season many fishers come here and make temporary houses and catch fish. Here have system for dry fish. In November Rash Mela is held there Rasmalai many people come here for visit this fair and specially Sanaton people during this time. Here food and staying systems will be provided by the packages or boat service provider.
Where to Stay: Sundarban Tour
Most probably the packages include food and place for staying. Moreover, if you want to stay outside or you're a little team and you want to stay there, there are some places like Hiron Point, Kachikhali, Nilkamal and government rest houses. Fare of the Nilkamal and Kachi Kali per room is 3000 taka and if you take four rooms the fare will be 10000 taka. In the Katka rest house per room 200 taka and for foreigners 5000 taka. Without these you can stay at government rest houses. You can also stay at Mongla, Khulna, Satkhira. There are many residential hotels and rest houses.
Sundarban is a very beautiful and dangerous place also so be alert. You should abide by all the rules of the guide and listen to them otherwise you can fall in trouble. This is a wealth of our country so don't try to do anything that can be harmful for the forest and for the country. Make sure that your needy things are with you, Medicine some dry food and fresh water to take with you. All the time try to stay with the team. If you're visiting the winter season, take enough dresses for it. Happy and safe journey.