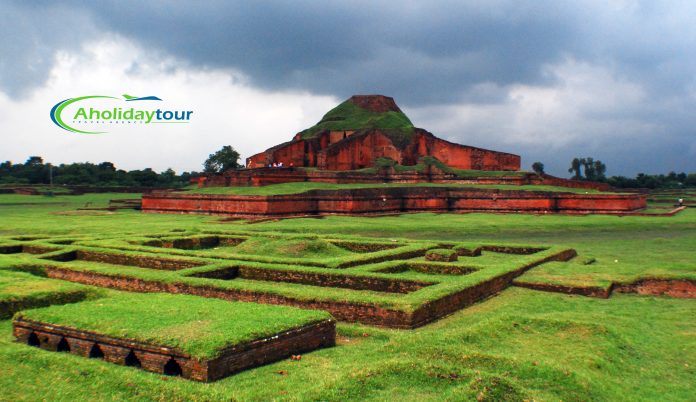 his It is located at the Naogaon district, Badalgachi upazila and the name of the village is Paharpur. Tis 34 km far from the Naogaon main city and only 5 km far from the Jamalganj Railway station which is located at the Joypurhat district. It is located in the flood plain of North Bengal, Bangladesh, in the lowlands of the Pleistocene period called Barindra. The soil is reddish due to the presence of iron in the soil. However, at present this soil is covered with sediment in most places. A hill-like structure located at a height of about 30.30 m above the surrounding plains. Paharpur Buddist Temple or Sompur Mahabihara.
History:
The Buddhist Pala dynasty was established in Bangladesh in the seventh century (70-810 AD). In the 8th and 9th centuries AD, Dharmapala, the second and third kings of the Pala dynasty, and his son Devpala established vast empires as far as Bengal, Bihar and Kannauj. This Paharpur monastery and temple were built in Bangladesh under their patronage during the period of extreme excellence of Buddhism. Although this monastery was reduced to rubble due to historical and geographical reasons, this magnificent monastery still stands proudly as the largest Buddhist monastery in Asia. According to UNESCO, Paharpur Monastery or Sompur Buddhist Monastery is the second largest Buddhist monastery in the southern Himalayas. In size it can be compared to Nalanda Mahavihara in India. It has been a very famous Buddhist teaching center for 300 years. Not only from different parts of the subcontinent, but also China, Tibet, Myanmar (then Burma).
The Paharpur Buddhist monastery had 177 rooms for Buddhist monks.
Paharpur Buddhist Monastery is located on a total land of 70.31 acres. At present the Bangladesh Archaeological Department has built a museum, a rest house and several administrative buildings here. As a result of excavations up to 1934 AD, the Department of Archeology discovered the rooms and the entire ruins surrounding the Vita of Satyapiri and the temple on the east side of the monastery. In the center of the main monastery and around it are 196 living rooms, wide entrances, numerous entertainment stupas, small temples, ponds. Paharpur Buddist Temple or Sompur Mahabihara.
The temple is 358 feet long from north to south and 314 feet wide from east to west. The main monastery is located in the middle of it. The evening was the daughter of the king here. Paharpur Buddhist Monastery is recognized today as one of the oldest cultural heritage in the world due to its large size and historical significance .63 idols can be seen in the stone gravel of Paharpur. Statues of many animals are also found in the temple. Bihar is about 72 feet high from the mainland.
Visiting Spots:
Total Mahabivar is visitable. You can see the archeological history here. Most common places or destinations are Central temple, open courtyard, Bathrooms & Bathrooms, Bathrooms, Gandheshwari, Mandir Bihar, Bihar, you can also see the statues some of them Chamunda statue of sandstone, Shitala statue standing on red stone, Vishnu fragments of black stone, Ganesha standing on black stone,Sandstone fame statue, Oil painting of the Empress of Dubalhati,Damaged statue of Hargauri, bBroken idol of Lakshmi, Narayan in black stone, Uma idol of black stone, Gauri idol of sand stone,Vishnu statue of sandstone, Nandi idol, Vishnu stone idol of Vishnu, Sun idol, Shivling of black stone, Manasa statue of sandstone.
However, the natural view of this spot will fascinate you must. The nature of Naogaon district is very much beautiful, allover a very good tour will take place, if you visit Naogaon. Paharpur Buddist Temple or Sompur Mahabihara.
Openning Time:
April to September (Summer)
Tuesday to Saturday: 10:00 am – 6:00 pm
Monday: 2:00 pm – 6:00 pm
Sunday: Closed

October to March (Winter)
Tuesday to Saturday: 9:00 am – 5:00 pm
Monday: 1:30 pm – 5:00 pm
Sunday: Closed

Ramadan
Monday to Saturday: 9:30 am – 3:00 pm
Friday: 2:00 pm – 4:00 pm
Sunday: Closed
Entrance Fee:
Bangladeshi Citizen 20 taka
Students (till secondary) 5 taka
For under SAARC country 100 taka
For other foreigners is 200 taka.
So, happy and safe journey. If you need any kind of information about your destination contact us.