Taj Mahal is a symbol of love. It is one of the seven wonders in the world. This is believed that it has the most beautiful patterns in seven wonders. It is located east from the Agra, bank of the Jamuna river. This Mughal times architecture have mix combination in construction style of Muslim, Indian, Persia, Turkish. The main attraction of the architecture is the top of the tomb's dome. At that time it took twenty thousand experienced workers 22 years and the cost was that times 32 million rupees. Mughal Emperor Shahjahan made this beautiful art for his wife Mamtaz. After the death of his wife he was totally depressed, for this reason he made this building for the symbol of his beloved wife. Taj Mahal Tour Guide History visiting spots and costs
Brief History
Emperor Shahjahan loved his wife too much. He takes his wife all the time, even during war times. When she died that moment they were in a military operation. He promised four steps to his wife, one of them was that Shahjahan had to make a symbol of love that no one can make like this symbol of love. That will be the best symbol of love in the world. Even now the Taj Mahal is the best symbol of love. The emperor fulfilled his promise by making this building.
It's work start at 1631 and finished at 1653. This complex land area is 42 acre and it's have 5 parts, the parts are Main gate, Garden, Mosque, Guest House and most important mausoleum of Mamtaz. This building have many type of architect work, you may see many designs in the walls, there used many Marble stone. It is known that Marble stones come from other country. It is famous for symbol of love for this reason many visitors visit the beauty of Taj Mahal. The architecture style is very rare type.
Even now days people think about the technology that times.
How they did this work. Main architect was Ahmed Laheri. He designed this structure. With this designer there have two thousand Persia, Auto man, Europian intelligent and very skilful designer made this building with Muslim, Persia, Mughal style architecture. The land area is the building and other side 42 acre. The main square of Taj Mahal protected by three directions with castle type walls. Inner side of this walls well artificial worked by the designers. With all the walls made a tomb and now it is a museum. The main gate of the Taj Mahal made with marble stones. Outside of the walls there have grave of others queens and Mamtaz's caretakers. Main section of Taj Mahal has two more buildings one of them Mosque and other guest house both buildings red coloured.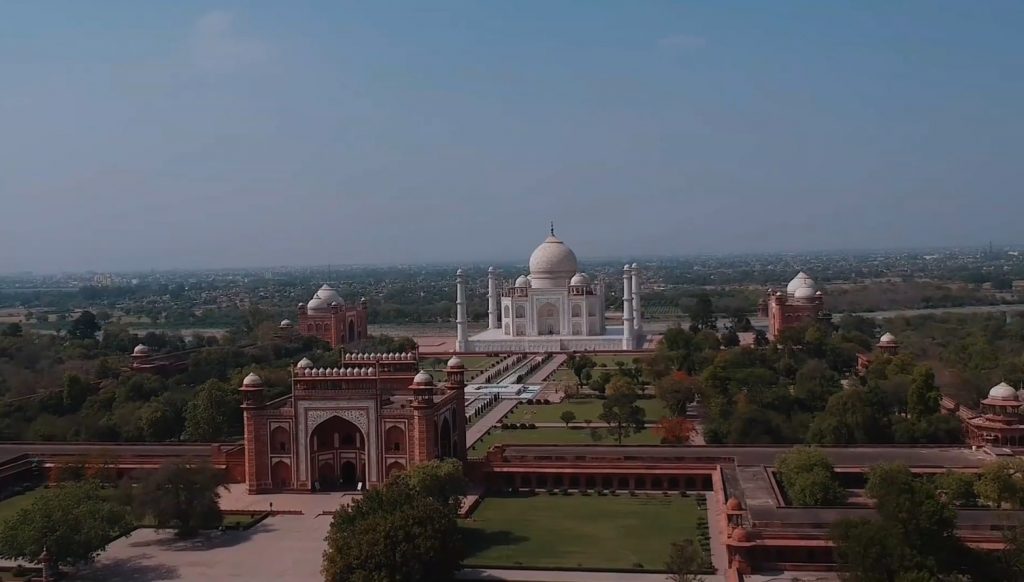 The Taj Mahal complex has geometry and flowers designed Lines of Holy Quran on the top of the valuable stones.
This work was done by using Pitrra dur strategy. The Andermahal of the tomb is octagon style and it is made with half circle marble. Here the grave of Emperor Shahjahan and his beloved Mamtaz. This grave is made by the thin artificial marble and cable. Basically the main grave is situated under 80 feet down from this place and its sculpture is ornamented with Shilalipi. You can see supernatural beauty in full moon night when moon light comes to the architecture.
Another Taj Mahal wanted to made the Emperor beside the Jamuna River and opposite side of the Taj Mahal. But it was not fulfilled, now days it is known as the Kala Taj Mahal. From this Taj Mahal you can see the different supernatural beauty at sun light and moon light of the Taj Mahal. This castle connected with Taj Mahal by bridge. Mughals time this castle was used by Mughal soldiers. In the Emperor's time he stayed here with family and he arranged many programs here.
What to see at Tajmahal:
Full structure of the Taj Mahal is very beautiful and for this reason it is the highest visiting place in India. Many people come here from many countries. If you are an Indian you have to take your NID to enter the Taj mahal and if you're from outside of India you have to take a valid passport with you. Otherwise you can't enter this place. You have to show your passport or NID or passport. entry ticket price of Taj Mahal id for the Indian people 50 Rupee and Asian people 500 Rupee and out of the Asian country 1000 Rupee.
Agra Fort:
Those who visit Taj Mahal don't miss to visit Agra fort. The architecture style is very unique and very beautiful. It is one of the world heritage sites declared by UNESCO. Here the castle the palace, Minar, and mosque, Khas mahal, Shish mahal, Muhamman Burge, Moti mosque and Nagina mosque are especially noticeable. Its works started at 16th century Emperor Akbar regime and finished at 18th century Aorangojeb regime. Here are sad memories of Emperor Shahjahan because he spent his life last eight years as a prisoner by his own son Aorangojeb. Here the emperor is leaning on the lap of death. Agra fort is situated only 15 to 20 minutes away from Taj Mahal. If you show a Taj Mahal entry ticket, the cost of Agra fort will very but if you're unable you have to pay 510 rupee.
How to reach Taj Mahal:
If you're from Bangladesh. You have to go to Delhi first then from there you can reach your destination by bus and train. Generally trains take 1:30 hours to 2 hours and by bus 3:00 to 3:30 hours. You have to reach Delhi then New Delhi Railway Station or Hazrat Nizamuddin Railway station, here you can get a train for Agra and from near here you can get a bus. The cost will be Delhi to Agra 520 – 1200 taka by class.
If you want to journey by train from Bangladesh the cost will be 1500 – 3200 rupee and if you want to journey by air the cost can be 2800 – 4000 rupee.
Where to stay:
In Agra there have many residential hotels. You can choose one of them by your choice. Some names of hotels Sai Palace, Max Guest House, The Agra Grande, Hotel Safari, Seven Hills Tower. You can choose one of them and there are many more hotels available. If you're on a budget you can get a 700 – 1500 rupee double seat room.
Appropriate Time:
November to March is very perfect time for visit Taj Mahal. Because in this time weather cold and other times too much hot in Agra. So my suggestion will visit this time. If you get chance to see the Taj Mahal at full moon night or spring night don't miss this supernatural beauty. You have to make a full plan one day and night. Because the beauty of Taj Mahal day and night light is different, many times it changes its colour four times in a day so if you want to see all the super beautiful view. You have to make plan for day night. Friday is off day because this here held Jummah prayer.
Happy journey….