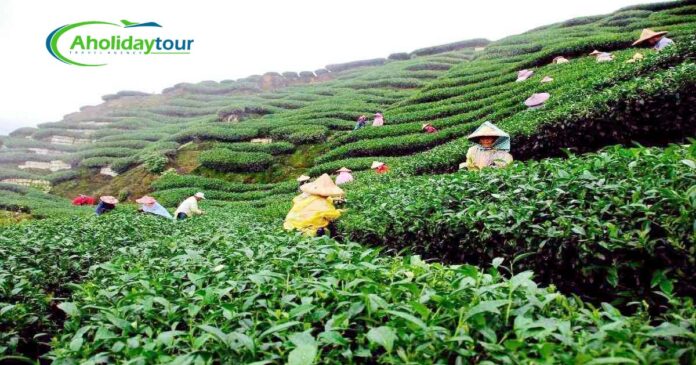 Sylhet is one of the most beautiful places in Bangladesh. Every year many people visiting this amazing beauty. There have the combination of stones and water. If you want to see the mixed beauty of nature, waterfall, river and transparent water you have to must visit sylhet. Tour All Details About Sylhet Jaflong Bisnakandi.
There have two options of reach Sylhet city that are bus and train.
If you're interested journey by train, There have four trains Dhaka to Sylhet. You can choice one of them and make a very comfort journey. If you want to journey by bus, you will get many agencies bus very easily from Sayedaba bus stand. Some name of bus Hanif Enterprise, Ena Poribahan, Shamoly Paribahon, Saint Martin, Mamun Enterprise etc. The fare of the bus will be 550 – 570 taka by class and AC bus fare 1200 – 1400 taka. This buses can be generally take 4:30 to 5 hours. Then you can visit by your tour plan. Some famous and beautiful places introduction was given below. You can make plan by our ranking.
Jaflong:
Jaflong is located in sylhet district Goinghat upzila. This is sisutaed 62 kilometres northeast from sylhet main city and you need 1:30 to 2 hours to reach there. Here hill and river mixes very closely for this reason jaflong one of the most spectacular place around Bangladesh. It is near of Indian Border. Jaflong is famous for many kind of rock many waterfalls and view of many hills. There have one river that fire burns in water. There have many rivers that are presenting you a very good view, its water very transparent that can be see everything under water. When the river has full water its give an extra ordinary view full of transparent water will fascinate you that's totally look like blue sky. Winter a rainy season its take extra type of beauty. On the other hand take a feel of sunset from top of the hill.
Bisnakandi: Sylhet Jaflong Bisnakandi
It is also an immaculate beautiful place in Sylhet. Bisnakandi make very beautiful scenery by its own charming beauty. This is located 55 km far from Sylhet city and generally need 1:30 to 2 hour reach there. It also like jaflong and Volaganj stone quarry. This is near of India and Bangladesh border Khasiya hill. There have combined many step of Khasiya hill. Basically the main attraction of it is the stream of transparent water flowing over the rocks and the playing of clouds and hills. It looks like the clouds are top of the hill. You can take a bath here to refresh your body and mind. The river, hills, waterfall, clouds and rocks will bond in an illusion. If you want to get full beauty of Bisnakandi you have to go Rainy season.
Ratargul Jolaban:
Bangladeshi only one freshwater forest and animals sanctuary. It's located in Sylhet Goainghat its 26 kilo metres far from Sylhet city. There have a few fresh water forests in the world one of them is Ratargul Jolaban. It's reserved by the Bangladesh forest Ministry. Evergreen forest is located bank of the Wang River. When fully Rainy season it is under 20-30 feet under water and others season it's have 10 feet under the water. If you visit this forest rainy season, you have to visit the forest by boat. On the other hand when water goes down there make some way to for walking. Ratargul Lalbzar and Dorga road have some residential hostel. There have many kind of trees and animal the combination of this beauty will fascinate you. If you want to take full refreshment you have to must visit Ratargul.
Hakaluki Haor: Sylhet Jaflong Bisnakandi
It is country largest Haor ans largest fresh water haor in Asia. You can go there by Sylhet. At first you have to come Sylhet then Fenchuganj. From here you have to rent boat and from there you can visit this haor. There have north side Meghaly hill and east side Tripura hills. For this reason here any time flash floods happen. It is a combination of 80 – 90 little, middle and large class swamp. In the winter season there came many guest birds. If you want to see the guest birds, you have to visit November to February month. The beauty of this haor is very amazing. When you're going to visit haor by boat take some dry food with you. You can stay there at night. There have some cottage. You can take it rent and watch full moon night.
Satchari National park:
It is a national park. It created 243 hector land. This is located at Sylhet division Habiganj district and Chunarughat upzila Raghunandan hill. There have generally three trails. The trails name and times given below.
| | | |
| --- | --- | --- |
| Trail Name | Time | Places |
| 1 | Half Hour ( 1 KM) | Indigenous Village |
| 2 | One Hour (3 KM) | Variety kind of animals and trees |
| 3 | Three Hour (6 KM) | Birds and finally Agar Forest |
If you want to tracking at Forest you have to take a guide with you. The fee of the guide can be 200 – 500 taka.The entry fee of the national park is:
| | | |
| --- | --- | --- |
| SL No. | Person | Price |
| 1 | Adult | 20 |
| 2 | Children and Student | 10 |
| 3 | Foreign visitor | 5 Dollar |
| 4 | Picnic spot | 10 taka per head |
There also have for tree adventure system. In this Park have 197 types of animals and 145 types of trees. You can visit here and enjoy a lot.
Tanguar haor:
It is located 97 KM far from Sylhet Dharmapasha named place and it take 3 to 4 hour to reach here from Sylhet. This haor land 100 square Km land area. This is country second largest haor. The speciality of this haor is blue sky, fresh water, green trees and looking of hills. In rainy season the area of this haor can be 20000 acre land.
There have 140 types of fish, 12 types of frogs, 150 types of reptiles and many other type animals and trees. In winter season here you can watch up to 250 type of guest bird. Rainy season is the best time for tour but if you want to see birds you have to visit winter season. You can also watch Niladri Lake, Small forest swamp, jadukata River and ever best view of sun rise and sun set. If you want to visit haor must need boat. The rent of boat for one day given below
| | | |
| --- | --- | --- |
| SL No. | Boat Size | Rent |
| 1 | Small Boat | 1500 – 2000 |
| 2 | Middle Boat | 2500 – 3500 |
| 3 | Large Boat | 3500 – 6500 |
If you want to stay at night in boat you have to pay extra cost. There have hills around haor and one watch tower in the haor.
Hazrat Shahjal Mazar Sharif: Sylhet Jaflong Bisnakandi
Sylhet is known as the 360 muslim saint holy land. Hazrat Shajalal (R.) one of them and leader.You can easily reach the shrine from Sylhet bus stand the fare of CNG 80 – 100 taka and rickshaw fare 15 – 20 taka per person. You can see the pond and Great Snakehead. There are said the fishes were taken by Hazrat Shahjalal (R.) and you can see many pigeon there. This pigeon called the Jalali Pigeon. There have many hotels and resort near shrink, you can book one of them room by your choice and room rent can be 500 – 1000 taka by class of room. Have a safe and secure journey..
দেশ-বিদেশের সব ধরনের ভ্রমন সংক্রান্ত তথ্য সবার আগে পেতে, সাবস্ক্রাইব করে সঙ্গেই থাকুন 'AholidayTour'- ➤ || P L E A S E|| ➤ https://tinyurl.com/aholidaytour ✅ Like |✅ Comment |✅ Share | ✅ Subscribe