Sitakundu is located at Cox's Bazar. It is 220 Km far from Dhaka on the south side of the country. You can easily make trip plans, you can go through Chittagong. Sitakundu Tour has many famous places to visit. Here you may see hills, Lake, waterfalls, Sea beach and natural beauty of evergreen Bangladesh. It is an administrative area of Chittagong district. This is the lowest administrative unit in Bangladesh; it has one 9 union and 1 corporation. It Is situate country's first Eco Park. Sitakundu is famous for its names Chandranath Hill, Mohamaya Lake, Khoiyachora Waterfalls, Guliyakhali Sea beach. Eco Park and many more places.
How to Reach:
You can come here from any place in the country. If you want to come from there you have three options train, Bus and by Air.
By bus: if you choose a bus. You will get Dhaka to Chittagong bus by this bus you can reach Sitakundu. You have to come first to Sayedabad, Fakira Pool or Mohakhali bus stand. There are many bus agencies. Some names of buses are Hanif, Eagle, Shamoly, Saint Martin. S Alam, Soudiya and many more bus agencies are available on the Dhaka to Chittagong route. The fare of the buses Non AC 420 – 480 taka and AC bus fare is 800 – 100 taka. Generally the buses take 5 to 5:30 hours.
By Train: Here are have many trains Dhaka to Chittagong. It is something difficult to train. Because, if you by train you have to back again by bus to reach Sitakundu. Fare of the train 265 – 800 taka by class. Here the fare of local bus Chittagong to Sitakunda is 50 – 80 taka and if you want to reserve CNG cost will 300 – 400 taka. If you want to come direct Sitakundu, here are have a Mail train 10:30 from Komlapur Railway station to Sitakundu. The fare of this train is 120 taka.
It will take Sitakundu. If you want to journey by this train you have to fast reach station and sit down in a seat. Otherwise you can be fall in trouble for getting seat. After reach Sitakundu you have to go Chandranath Hill and the fare of this way 20 taka per person by Auto rickshaw, here fare is fixed.
Chandranath Hill:
It is located 4 KM East from Sitakundu. After reaching the hill point you have to prepare to walk and reach the hilltop. My tip will be to take some Saline dry food and water from the way of Sitakundu to Chandranath hill. There is a shop on top of the hill but the cost of the product price is double. If you are visiting with family don't try to track with ladies and children.
Because, the top of the hill is 1152 feet up from the general land. It will be tough to reach for ladies and children one more thing, try to put your bags down the hill. There is a shop to put things. It will be very hard and painful for you to carry bags to the top of the hill. You can take a stick from here and the price of it is 20 taka.
After climbing some you will get a waterfall, there are two ways. One of them is a dirt road and one is stairs. The dirt way will be better for you, because climbing to the hill is tough and hard by stairs and the stairway is better for coming down for the top. The time will need to reach the top 1:30 to 2 hours. You can see the waterfall, business class flower garden and the immaculate beauty of this hill and around it.
Top of the hill situated the Chandranath temple. Many people of other religions come for and visit it. You can see the charming beauty and the beauty around the hill is very impressive. There are some tong shops for collation and elements for worship. Every year on Mahashivratri many people of Sonatan religion come here. Overall the beauty of this hill must fascinate you.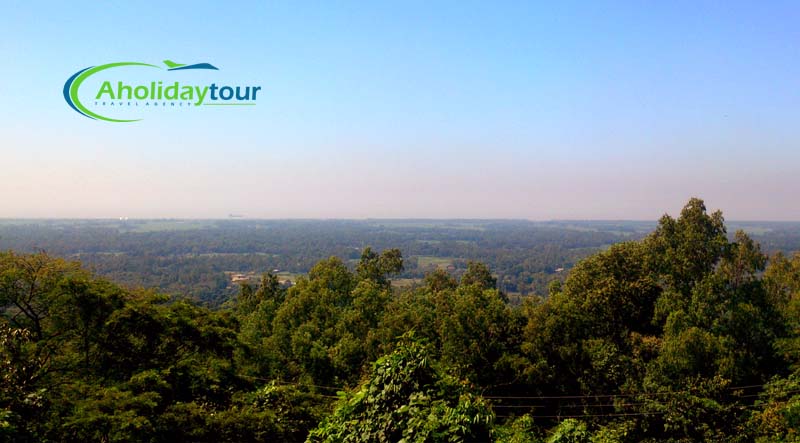 Guliakhai Beach:
It is located only 5 KM away from Sitakundu main city. This beach is also known as Muradpur beach to the local people. Fare of the CNG to Guliakhali 150 taka for 5 per person. It will take 20 to 25 minutes to reach the beach. When you're reaching the place at that ebb time you have to go by walking on the main beach. Tide time you can go by boat.
The fare of the boat 25 taka but tide times the main beach, go down under the water, you can see just sea in this time. You can visit the beach tide time by engine boat and enjoy the beautiful sea. The fare of this is 40 taka per person and generally one boat takes 30 persons. In ebb time you can see the beauty of some swamp forest like Mangrove forest, the breathing root of kewra tree, drains around the trees and most beautiful green carpet of grass. This is a very beautiful place. You can see many more beautiful places by boat. After finishing the visit you have to return to Sitakundu.
Khoiyachora Waterfall:
for its immaculate beauty it's called the Queen of Bangladeshi waterfalls. It is one of the beautiful places of Sitakundu. You can easily get CNG to laguna from Sitakundu city. The fare is 20 – 30 taka. After reaching near the way of the waterfall you have to prepare for walking. My tip is to wear short pants and remove shoes because the way of the waterfall is very slippery.
Here you have to remind one thing that you do not need to guide the waterfall. Many brokers will try to impress you and they will try to say that without a guide you cannot reach. Don't listen to them, you can easily reach there by asking people. Here there is a wonderful unearthly beauty of nature. Here are seven steps of the waterfall. If you want to see all of them you have to stay a full day. But most people see one or two points. The wonderful and immaculate beauty will fascinate you. Take your bags to your own security and don't jump from the top of the waterfall.
Mohamaya Lake:
You have to go to a Bartaki named place and you will get CNG for Mohamaya Lake and it will take 20 t0 25 minute and the fare is 20 taka. Entry fee of this Eco Park is 20 taka. You can lose the unearthly beauty of this lake. Here is a system for Kayaking. The rate of kayaking is 1 hour 300 taka and Half hour 200 taka, for students one hour 200 taka without holidays. But you have to show your student id if you want to ride as a student. They will provide life jackets and hats. You can also visit Napittachora waterfalls, and many more places at Sitakundu.
Cottage or Tent and Food: You can stay at a hotel at Sitakundu. But the hotels are not too good. Here there is another option only gents group tent service. This package value is 500 taka, it will provide you dinner, breakfast, mid night BBQ and bed for night. You have to meet with them.
Overall Sitakundu is a very beautiful place. The cost of the visit is not too much so you can make a plan for it very easily.
Be the first to get all kinds of travel information from home and abroad, subscribe and stay tuned. 'AholidayTour'- ➤ || P L E A S E|| ➤ https://tinyurl.com/aholidaytour ✅ Like |✅ Comment |✅ Share | ✅ Subscribe